AI AND THE CHANGING FACE OF JOBS: GOOD NEWS IF WE REACT NOW
Friday, 1st February 2019
By DotNews
"Artificial Intelligence is a tool, not a threat" (Rodney Brooks, Roboticist)

There has been fear that the rise of Artificial Intelligence (AI) and robots will considerably reduce the work force. New research concludes that there will be winners and losers as AI becomes entrenched in economies, but there will be far more winners. The World Economic Forum (WEF) predicts that actually 58 million new jobs will be created – 75 million jobs lost but 133 million created (see the table below for more).

The trick facing business is how to get onto the winning side, as those businesses that will be most affected by AI, and those who quickly get it right, will have a substantial profit enhancer because AI will, in the medium term, drive down business costs.


Adapt and Thrive! What you need to do
The first issue is to acquire more resources in terms of technology (AI will need far greater processing power, new AI machinery), up-skilling your labour force and employing new staff (see table below).


Secondly, consider approaching other players in your industry to put together a plan that will bring in a future stream of skilled employees. This task is too big for one business to undertake.


You will also need to instil into your staff that they will need to continually improve their skills.

What type of employee will you require?

Recruiters in the developed world are now focusing on people with problem solving skills – on an ongoing basis AI will throw up technical and competitive challenges. Staff need to be able to quickly solve these problems.

As technical people will become more of a value driver in business, having "soft" skills, like good communications and being effective in teams, will also be sought after.

Below is a table from the Word Economic Forum showing jobs that will be needed in 2022, and those that will face being replaced.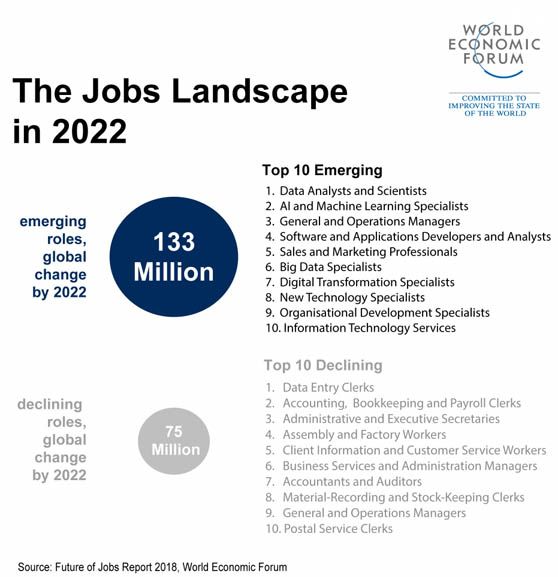 A new era is starting and the news is fairly positive – AI should create more jobs, reduce business costs, and greatly enhance productivity. Don't be caught on the wrong side of this revolution!